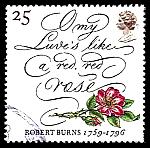 Shortcut to list of site page links - Click here
Enhance your beautiful stamps with beautiful words
Nothing could lend more weight to your virtual stamp collection than appropriate poems or famous quotations. There are just as many poems out there in the world as there are postage stamps! Why not compose your own verses? You never know, there could be an amazing poet lurking inside you too. Send us an example of your work. We will happily publish an illustrated version right here on this site.
---

WORDS OF ENCOURAGEMENT ....

Are you in earnest?
Seize this very minute:
What you can do,
or dream you can, begin it;
Boldness has genius,
power and magic in it.
Only engage, and then
the mind grows heated;
Begin, and then the
work will be completed.

... Johann Wolfgang Göthe ...

---
The Greatest Show on Earth

Watch closely now
The passing parade of life and how
The various performers take their bow

The clowns are easiest to spot
They make us laugh, embarrassed, hot
More often than we admit, or not

Then come tamers of the lion
Their charges caged in bars of iron
Cracking whips, make others whine

Jugglers wearing crowns of kings
Skilled at throwing balls and rings
Manipulate so many things

Trapeze artists who make us fret
It's life itself they dare to bet
Without a line or safety net

Conjurers whose amazing tricks
Make money vanish and, for kicks,
Your golden rings, and building bricks

Escape artists: those masters of illusion
Rely on alibi, timing and delusion
To add to your life's great confusion

The acrobats of great ability
Do mental flick-flacks with agility
And rob you of your mind's fertility

Now who is left, come let us see
The watching crowd. It's you and me
By far the great majority

We need entertainment for the day
To get our money's worth we say
But there's a certain price we pay

Of course we simply can't forget
Someone will put up posters yet
The show goes on - that you can bet.

Bruce Kilgour



---
POEMS ABOUT STAMPS ARE GREAT FOR ANY COLLECTION
The following poem was shared with us by Mark L. Hamburg at philatelic@philatelic.com, one of the web's largest philatelic e-mail lists:
STAMP COLLECTOR
My worldly wealth I hoard in albums three,
My life collection of rare postage stamps;
My room is cold and bare as you can see,
My coat is old and shabby as a tramp's;
Yet more to me than balances in banks,
My albums three are worth a million francs.
I keep them in that box beside my bed,
For who would dream such treasures it could hold;
But every day I take them out and spread
Each page, to gloat like miser o'er his gold.
Dearer to me than could be child or wife,
I would defend them with my very life.
They are my very life, for every night
Over my catalogues I pore and pore;
I recognize rare items with delight,
Nothing I read but philatelic lore;
And when some specimen of choice I buy,
In the world there's none more glad than I.
Behold my gem, my British Penny Black;
To pay it's price I starved myself a year;
And many a night my dinner I would lack,
But when I bought it, oh, what radiant cheer!
Hitler made war that day, I did not care,
So long as my collection he would spare.
Look - my triangular Cape of Good Hope.
To purchase it I had to sell my car.
Now in my pocket for some cents I grope
To pay my bus fare when home is far,
And I am cold and hungry and footsore,
In haste to add some beauty to my store.
This very day, ah, what a joy was mine,
When in a dingy dealer's shop I found
This franc vermilion, eighteen forty-nine...
How painfully my heart began to pound!
(It's weak they say), I paid the modest price
And tremblingly I vanished in a trice.
But oh, my dream is that someday I'll glow,
When I might discover a Mauritius blue,
Poking among the stamp bins of a show;
Who knows! They say there are but two;
Yet if a third one I should spy,
I think - God help me! I should faint and die...
Poor mister ------, he's cold and dead,
One of those stamp collecting cranks.
His garret held no crust of bread.
But albums worth a million francs.
On them his income he would spend,
By philatelic frenzy driven;
What did it profit in the end...
You can't take stamps to heaven.
by Robert W. Service
ANOTHER GOOD REASON TO BECOME A VIRTUAL PHILATELIST!
---
What is a Stamp?
(By Trevor Webster -Acknowledgements to Fish Hoek Philatelic Society)
A true stamp must feel the tongue of the sender moistening its gum
A stamp must be stuck on a letter
A stamp must experience the dark depths of the post box
A stamp must suffer franking
A stamp must sense the hand of the postman handing the letter to the addressee
A stamp which is not mailed on a letter is no stamp. It has never lived, it is a sham.
It is like a fish who has never swum, a bird which has never flown.
A stamp must have lived as a stamp.
... and, ultimately, it will become a beautiful virtual stamp ... Ed