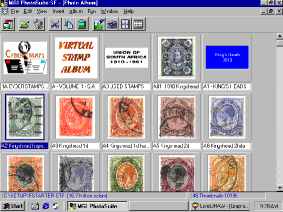 Create your own Virtual Stamp Album
[ Home ] [Virtual Theme Ideas] [ Products ] [ Services ] [ SwopShop ] [ News ] [ Theme Tips ]
[ Membership ] [ FAQs ] [ Free stamps download ] [ More Virtual Album Screen Shots ]
Here's good news for Virtual Stamp Collectors. You can use many existing Software products to accommodate your hobby. Put these programs to work as amazingly fast and efficient Virtual Stamp Albums. Here's how:
THINK PHOTOGRAPH ... THINK PHOTO ALBUM ... THINK STAMP ALBUM.
Most Scanner support incorporates this form of photo software.
Not only can you customize your favorite photo sorter into a highly organized, chronological stamp stock book or album - you get the added benefit of the program's on-board viewer facilities .... several levels of magnification up to 400% ... and a slide show format comes with most. This is when the phrase "SEEING IS BELIEVING" takes on a whole new meaning for people who are serious about stamp collecting.
The Album shown at the head of this page was created on MGI PhotoSuite SE - Starter Edition - Version 1.06 (Copyright 1993 - 1998).It makes loading photo images (Use JPEG format) from folder a piece of old tackie!
ILLUSTRATION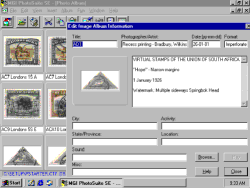 MGI PhotoSuite SE - Starter Edition - Version 1.06
Then use its pop up "Album - Description" feature to RENAME the file, if need be, and add alpha numeric prefixes. Finally use the "Album - Sort by" feature for faster than instant organization of your virtual stamp images. Intersperse headings that you have exported as JPEG images from your favorite paint or graphics program.
The "Description" box allows you to append more information than any physical form of stamp album ... up-dateable at the drop of dust cover!
MGI PhotoSuite's Slideshow viewer (Full Screen Size) can also be customized - Background screen color and speed of slide change are yours to define. Stop the presentation in mid stream to point out an unusual stamp feature, or make notes ... and continue at your own pace. Abort the presentation at any point to return to the main album which itself is driven by page scroll. Just for old-fashioned fun, (actually traditional paper stamp layouts can be quite useful too ... especially if your hard drive blows) use PhotoSuite's "File - Print Preview" and Print commands to get a perfectly formatted Virtual Stamp Album record, printed page by page. You don't even need to draw the box frames. Look:
ILLUSTRATION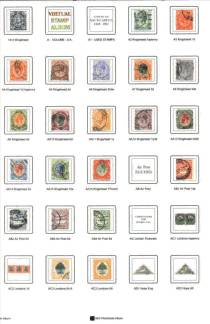 Print output - MGI PhotoSuite SE - Starter Edition - Version 1.06
---
Next on our list of ready made electronic stamp albums is ...
ILLUSTRATION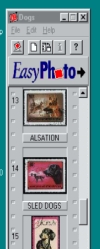 Adobe PhotoDeluxe 2.0 EasyPhoto 2.7 (Copyright 1995 - 1997)
Storm Technologies Inc.
Here you see this handy sized floating Virtual Film Strip, which scrolls forever, and can be placed on the desktop of any popular drawing program. Images from the Strip are then conveniently dropped onto the working page of a program that can magnify powerfully.
But the "File - Display Gallery as Slide Show" command makes this little dream come true all by itself ... full screen slide visuals with optional titles displayed make for stark, brilliant stamp viewing!
You can set up several Virtual Stamp Albums (Galleries) to appear at start-up ... another useful innovation.
---
And here's how good old spreadsheet technology finally makes its presence felt. The "Insert Picture" command together with the most efficient cell organisation structure known to man is a formidable combination when it comes to classifying stamp collections. And writing them up in your favourite fonts type sizes and styles. (On-board valuations too. Set up a valuation Macro!)
Set up the "stamp sheets" one by one with full write-ups and plonk the stamps into their prescribed positions. Microsoft Excel lets you shift the images around with gay abandon until you are happy with the page layout. Then take a peek in Print Preview without cell lines interfering. Use the Magnifier in the Print Preview mode or the very powerful Zoom
ILLUSTRATION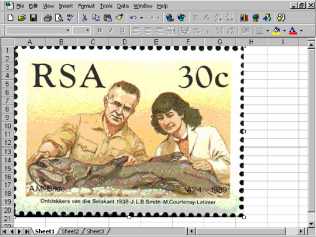 Microsoft Excel Spreadsheet
Facilities which belie the capabilities of this business program as an imaging wizard. Of course the other features of the program make Virtual Stamp Collecting a Virtual Dream Come True - WordArt - Sort orders - Drawing - etc. etc.
ILLUSTRATION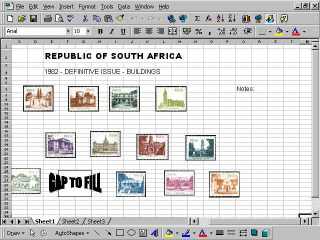 Microsoft Excel '97 Version 6.0

---
Finally, there is no better Virtual Stamp Stock Book than your very own Windows File Manager .... Windows Explorer.
ILLUSTRATION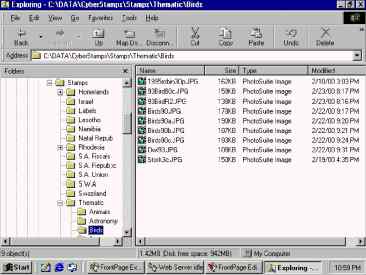 Even the most basic computer WORD PROCESSOR can be used creatively as a neat way to collect and display your favorite CyberStamps.
PAGE UPDATE ....
MORE FASCINATING SCREEN SHOTS OF SOFTWARE DEPLOYED AS VIRTUAL STAMP ALBUMS - CLICK THIS LINK
IF YOU HAVE DEVISED AN INNOVATIVE VIRTUAL STAMP ALBUM PLEASE SHARE IT WITH US - WE'LL BE HAPPY TO GIVE YOU A LINK.
---