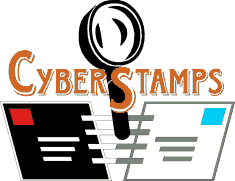 The Story of Music on Stamps

[ Home ] [ Introduction ] [ FAQs ] [ Products ] [ Services ] [ "SwopShop" ] [ Free Stamps ] [ Membership ]
[ News ] [ Virtual Album Tips ] [ Virtual Theme Tips ] [ Stamp Sounds ] [ Stamp Memories ] [ Stamp Signs ]
IF MUSIC BE THE FOOD OF LOVE .......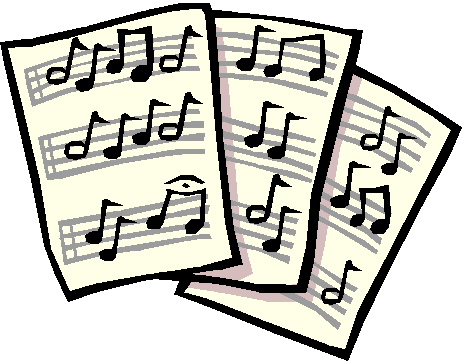 "The story of music ... as told on stamps", a visual walk down musical memory lane, is a continuous feature and we are sure you are in for the treat of your lives since all virtual stamps that appear here may be freely copied to your own virtual collections on computer. There are 100 amazing music stamps on Theme Master 2001.
YOU CAN DOWNLOAD OUR FREE STAMP SLIDESHOW - "A MEDLEY OF STAMPS" RIGHT NOW FOR A DEMONSTRATION OF CYBERSTAMPS IN ACTION. (THERE ARE EVEN PROGRAMS AVAILABLE THAT ALLOW YOU TO RUN MUSIC FILES TOGETHER WITH A SLIDE SHOW - IMAGINE WHAT AUDIO VISUAL TREAT YOU CAN CREATE FOR YOUR MUSIC LOVING/ STAMP COLLECTOR FRIENDS!)
- How about showing off your train stamps to the restrain of "The Chatanooga Choo Choo" ... the possibilities are endless ...
Download Item (267k) "A Medley of Stamps - demonstration" ZIPFILE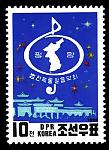 "THE STORY OF MUSIC ON STAMPS"
(or "The Sound of Stamp Music")
- click stamp to magnify -
October 2001
---
September 2001
---
Click here for music back issues to January, 2001
---
Fairy Tales on Stamps
Introducing The Brothers Grimm ... and ...
Click stamp to see how the story unfolds ...
---
THE STORY OF GOLD ON STAMPS
here's GOLD in them thar stamps...
These Johannesburg goldmine stamps were issued as part of the South African Definitive set between 1933 and 1948. One of the earliest stamp issues to employ metallic ink, actual gold dust was used in the ink, something that would never happen these days!

A second issue of the same design was produced in 1941, but, as with all wartime material saving measures, they were about half the size.

Click to magnify
| | |
| --- | --- |
| Talking gold etc., here is a virtual reproduction of the foil embossed 1999 Perth Mint Centenary. And for coin stamp collectors we've added the 75c stamp that was issued to commemorate the first coin minted in Mauritius | |
---

How "the boy who stood on the burning deck" saw things ...
---
JUNGLE STORIES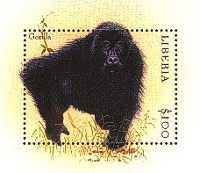 SWING THROUGH YOUR ALBUM LEAVES ... (click me)
---
WAR STORIES
100 YEARS AGO

SOUTH AFRICAN BOER WAR CENTENARY
Exactly 100 years ago today, Great Britain was at war with South Africa's 2 Boer Republics, The Orange Free State and Transvaal (The land beyond the great Vaal River). Initially, things appeared to go badly awry for the British forces and they suffered 3 major defeats at the hands of the determined Boers (or farmers), at Colenso, Magersfontein and the battle of Stormberg mountain.
But in spite of setbacks, stories of valour and true grit emerged to rekindle the spirit and strengthen flagging resolve. Not the least of these sprang from events directly concerning local post offices, which found themselves embroiled in what has often been described as "the last gentleman's war."
First there was the courageous example set by the intrepid, though formerly humble postmistress, Mrs. Sarah Gluck. After their early victories a large boer commando (mounted guerilla force) descended upon the erstwhile peaceful hamlet of Lady Grey, named after the wife of a popular British Colonial Governor. Undeterred, Sarah refused to hand over the keys of the little post office and placed herself in front of the flagstaff, denying any boer soldier access to it. Apparently, out of a sense of chivalry, Mrs. Gluck was not manhandled and the Union Jack was left to flutter a while longer. This defiant gesture is the stuff that instant legends are made of and Sarah Gluck became a national heroine overnight. The South African post office gained another feather in its cap, having already quite an illustrious history stretching back to its novel triangular stamps of 1853.
Although Sarah's fame and published photograph spread far and wide throughout the British Empire, and patriotic poems were penned in her honour, we are not sure what became of her in the end. Can anybody out there please enlighten us?. Its never too late to start a Sarah Gluck Society.
---
Click stamp

for enlargement
On 9 April 1900 the town of Mafeking was besieged by the Boers. Colonel Robert Baden-Powell (founder of the Boy Scout movement in 1908) managed to hold out. To keep up morale, he set up a local Bicycle Post to enable the troops to communicate with each other. A corps of cadets mounted on bicycles delivered the mail inside Mafeking while runners slipped through enemy lines to deliver mail to post offices from where they could be dispatched to friends and relatives. And when the stamps ran out they made their own. The Id design was drawn by Dr. W.A. Hayes, a local medico, and showed Sergeant-Major Goodyear of the Cyclist Cadet Corps riding on his bicycle. He had been entrusted with local post deliveries. The 3d value, which appeared in two sizes, was designed by Captain Greener and depicted a portrait of Colonel Baden-Powell himself. The stamps were photographically produced by Dr. D. Taylor on horizontally laid paper with a sheet watermark "Oceana Fine". Since they were produced in a process similar to that used in the manufacture of draughtsman's blueprint plans the stamps themselves were blue. After a few thousand were issued they were discontinued when the siege ended about a month later.
Because Baden-Powell had implemented the makeshift stamp solution without reference to higher command, and particularly because he had replaced the Queen's official portrait with his own, he was severely reprimanded by Queen Victoria who, as the saying goes, was not amused.
Many forgeries of these stamps exist. Both Siege stamps were featured on the 15c 1982 Bophuthatswana stamp commemorating the 75th anniversary of the Boy Scouts.
The Editor's great grandfather served with a colonial regiment called Brabant's Horse, and Driscoll Scouts as a recruiting sergeant during the Boer War. Strangely the record shows that he recruited many Cape Afrikaners ( Boers) to fight for the Queen's shilling. His medal battle bars include the Siege of Wepener (Jammersburg Drift), a lesser known siege town. Here a relatively small force under Colonel Dalgetty was hopelessly outnumbered by the Boer General de Wet's commando. They clung on desperately for 21 days under appalling conditions before the siege was lifted. It appears the reason for this courageous stand was simply that, had they surrendered, many of their number would have had to face the serious consequences of betraying the Afrikaner Volk. At that time, several Boer prisoners of war were known to have been executed for masquerading in British uniform.
To lend atmosphere to this historical period, an old family photograph shows Sgt. George Kilgour standing 2nd from right. He never dreamed that 100 years later his image would be launched into cyberspace.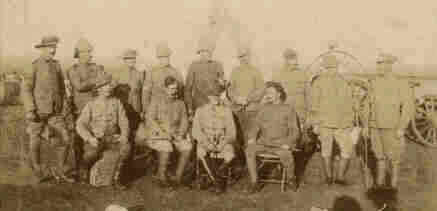 - Bruce Kilgour
Editor
---
DO YOU HAVE AN INTERESTING STAMP STORY ? PLEASE SHARE IT WITH US
MEMBERS ARE INVITED TO SUBMIT ARTICLES TO THIS ON-LINE MAGAZINE PAGE. ADDRESS YOUR SUBMISSIONS TO: THE EDITOR, STAMPSTORIES, CYBERSTAMP CLUB, AND MAIL TO THE ADDRESS BELOW.