STAMP PHILOSOPHY
"For Seekers"
A concise essay on the origins of modern day religious belief systems, beautifully illustrated with postage stamps. Also downloadable from site as a free e-book.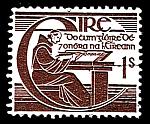 ---
MEMBERS' ADVERTISEMENTS

Exchange military and prisoners mail, censored items and any other war-cover of all countries and wars.
Want Italian postal history items
before 1955. Vittoriano Zambrini--Via Valtinella 20/d--21020 Casciago--Italy
(e-mail: vic.za@libero.it)

-----------------------

I am a middle level stamp collector, living in Canada, and seeking exchange partners.
Are you interested?
Allan Singer e-mail 4asinger@home.com
---
GREAT NEWS ABOUT VIRTUAL
STAMP ALBUMS
The Tripod and Lycos Network offers their members a free Website of 50 Megabytes - and all the tools necessary to establish your own Virtual Stamp Album on-line! Check out the prototype created at www.brucekilgour.tripod.com/virtualalbum
For your own free site and services go directly to http://www.lycos.com
---
"VIRTUAL FUN FOR EVERYONE"
Members recently received a bonus in the form of an enlarged version of the following famous Cape of Good Hope Triangular - here is a thumbnail for your collections: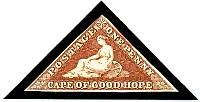 ABOUT THE I853 CAPE OF GOOD HOPE TRIANGULAR

By their revolutionary shape and the many romantic tales that have been told about them over the years, there can be little doubt that the famous Cape Triangulars are among the most popular and well-loved stamps in the world.
The designer, Charles Bell, chose the seated figure of the mythical 'Hope', with her anchor (which became the Cape Colony's emblem). The engraver and printers were William Humphries and Perkins Bacon respectively, who between them produced stamps of outstanding simplicity and quality, stamps which have been highly prized by collectors for almost a hundred and fifty years. These stamps, ld. brownish red and 4d. blue, were intended for overseas mails, and the purpose of their triangular shape was to render them easily distinguishable from the local mail in the letter-sorting offices (with illiterate sorters) of the Cape Colony.
In later years 6d. and Is. values were issued, and in 1861, when a consignment of stamps from Britain was delayed, provisional ld. and 4d. triangulars (the so-called 'wood-blocks') were locally printed in Cape Town. They were so crude in appearance that they were at first regarded as forgeries when the letters which bore them began to reach overseas countries. The triangular stamps were not easy to handle and, as all stamps were still in imperforate sheets in those far-off days, cutting triangular stamps from a sheet was an awkward business! Consequently, in 1864, new stamps, small, neat and rectangular, were issued in the Cape of Good Hope. These also depicted 'Hope'.
---
"STAMPS FOR THE MEMORIES"
Click on the bearded man for a virtual trip down memory lane ...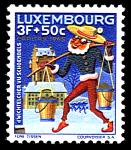 he will help you to remember when ...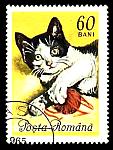 "Wanna know where this came from? ..."
(click on ball of wool)

Member Contributions
(with click-on enlargements)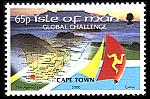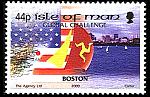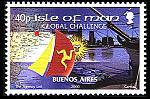 2000-2001 Global Challenge
"Flying the Manx around the world"
Items submitted by Roy Wayne, Cape Town - with thanks
More available in "SwopShop"
---
CLUB BULLETIN BOARD
Heikki Rauhala of Sweden has put together an impressive array of 400 computer related stamp images at
www.algonet.se/~heikki/stamp.html
Why not have a look?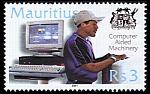 ---
Charles Garland is still keen to trade some mint sheets or stamp strips with anybody who might be interested. He supplied the fish tank image now gracing our
WALL OF STAMPS
e-mail Charles at PhilatelicTrades@aol.com

---
---
Michalson's Stamp Shop is full of beautiful material as always.


Click Mickey to bounce over to Michalsons
And remember ... watch out for those pesky little spiders at, Real Live Stamp Sales". !!!

click carefully!

A MONUMENTAL IDEA ...
- 100 -
PIONEER MEMBERS - ROLL OF HONOUR
Click the above link to see our full list of Pioneer Members

WHAT DO THE STAMPS HOLD FOR YOU?
Astro - Philately Link
( find out about your personal stamp collecting traits)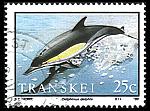 Click the dolphin ... and make your wish upon a stamp