[ Home ] [ Virtual Forgeries ] [ Products ] [ Services ] [ "SwopShop" ] [ StampSounds ]
[ Slideshow ] [ Technical ] [ Album Tips ] [ Theme Tips ] [ FAQ's ] [ Membership ] [ News ]
Here are 3 more Screen Shots of programs you can use to display
your virtual stamp collection in a very dynamic way.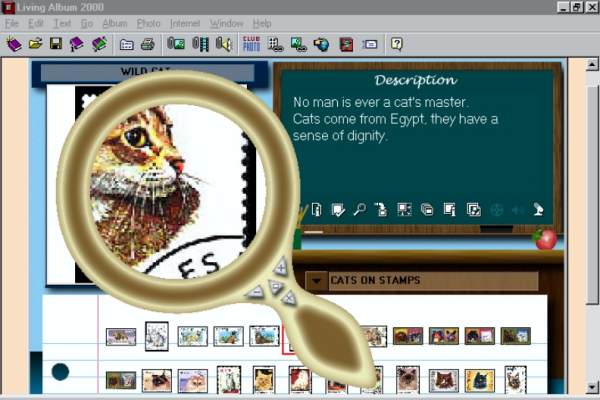 Here, two programs are being used simultaneously - (1) "Living Album 2000" AND (2) "Lens" desktop magnifyer. A virtual winning combination.
(1) "Living Album 2000": You can get a near fully functioning version (3.2.2) FREE from http://www.clubphoto.com. The registered version supports audio and video extensions - NICE. But the free version still has a lot more than you could imagine; Amazing slide show formatting, on-board image enhancement editor (really easy to use), and a choice of viewing environments. I have selected the "school room" background here to lend concentration to the subject and make it a delightful learning experience. I would urge you not to hesitate to download this remarkable program. Then all you need to get cracking with is a supply of quality stamp images. Get Theme Master 2001. It will save you weeks of work, not only days. And it provides excellent examples on which to model your own scanned cyberstamps.

(2) "Lens" virtual magnifying glass - a fun little tool for your desktop - Freeware from www.ABFsoftware.com
I obtained mine several months ago. It works well on certain types of images and as you can see is just fine for enhancing the above album program. A virtual philatelist should never be without this handy tool.
---
MyAlbum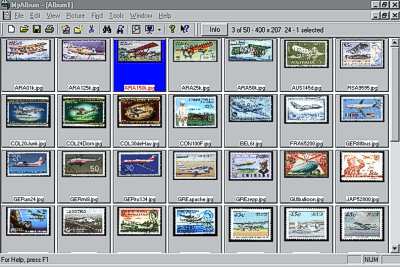 MyAlbum Freeware from http://quebec.eds-ingevision.fr/DMS/
The MyAlbum software is based in part on the work of the Independent JPEG Group.
A real workhorse that has brought gasps of astonishment from audiences to whom I have demonstrated its usefulness as a tool in virtual philately ... its sheer speed and versatility is amazing. Also has slideshow and print facilities. It does not recreate copy images but links directly to the directories where they are stored. Generous annotation facility and export options. I use it all the time and could not imagine virtual life without it.
---
FrontPage 2000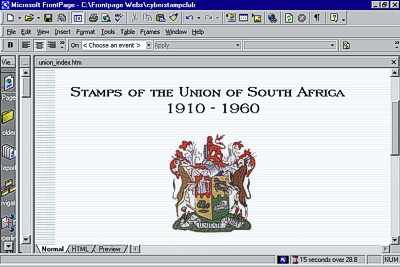 Well, if you're into web page design I suppose there's nothing to stop you creating your own on line virtual albums in FrontPage, DreamWeaver or any of a host of HTML editors. To view this on line developing album click on this link. (Use your Back Button to return here)
Using Microsoft WEFT, a separate Web Embedding Font Tool, you can ensure that your typographical design is not compromised when viewed from a browser that does not share your same font library.
The ready-made FrontPage background theme I have used here is the finely lined paper called "Glacier". The stamp position and mounting blocks are made simply by using the program's table tool (with padded borders).
TALKING STAMPS?

Screenshot

Now we've seen everything. Or heard everything rather. Talking stamp albums! Simply download the amazing "Aladdin's Reading Lamp" FREE from

http://www.win-software.com/

Select any text (A stamp write-up in your virtual stamp album for example), then rub (click on) the magic lamp and hey presto, this Genie appears and reads the selected text out loud ...