"Hope"
Issued 2nd January, 1926 to commemorate the original Cape Penny Triangular of 1853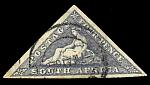 The first 1853 Triangulars were printed in English only ... there was also a fourpenny value...
... so this is the first Afrikaans language triangular stamp, and, it seems, the last.
"Hope" is a mythical figure that became a well-known emblem of The Cape of Good Hope ... known to mariners for centuries before as The Cape of Storms.
Watermark:
Multiple Springbok heads
Blue-grey (Slate grey) colour, narrow margins and imperforate like its illustrious predecessor
Recess printing by Bradbury, Wilkinson & Co., London.